reviews


Art Around the Edges
New York City is a marvel. As the national and local economies remain compromised, the arts community survives with vigor and enthusiasm, concentrated in different parts of the city. For instance, these days a hip, unofficial center of the fine arts has emerged by the old elevated Westside Highway, a ruin of the original overhead thoroughfare, before it became rerouted as a road running along the Hudson River at street level. Now called The High Line, the architectural remains of the elevated road, a skeleton, has been developed into a beautifully gardened walkway with spectacular cityscapes. There is a committee of philanthropists, artists, and enthusiastic volunteers who have revived this important part of NYC's structural history.

Haute couture designer shops, world-class restaurants, and art galleries, hundreds of art galleries, have flooded into this revitalized environment. Together, these forces have turned a lost part of Manhattan into a chic international destination. There are exquisitely restored historic buildings, exclusively inhabited by art galleries - buildings of galleries. Each gallery - someone's dream.

This article is about the confluence of a portfolio of modern art, created by the greatest artists of the era, and two entrepreneur art dealers, partners, who own one of these galleries. To date their business has been dedicated to photography and niche artists, but they currently have a show that is a portfolio of prints of modern art by world-renowned artists. The prints produced for the bicentennial, were created using various techniques. This show is a point of departure for this small gallery, and one that will broaden its reputation with professionals and collectors.

First - about the Exhibit
To celebrate the bicentennial, in 1975, Mobil commissioned thirteen world-renowned artists to create prints for the occasion. They are: James Rosenquist, Robert Rauschenberg, Roy Lichtenstein, Allan D'Arcangelo, William Bailey, Edward Ruscha, Christo, James Brooks, Constantino Nivola, Velox Ward, Raymond Saunders, Robert Andrew Parker, and Ben Schonzeit. Each print was replicated two hundred times, thereby creating a numbered edition of two hundred portfolios. These were mostly sold as collections, but also as individual pieces of art. Sadly, selling the art piece by piece destroys the portfolio concept.

A good deal of the remaining art was stored in out of the way, dark spaces. The project was no longer the buzz. At least, not until Helene Greenberg Wyman and Meryl Messineo found two complete sets hidden away and brought them back into the spotlight. One of the portfolios was sold almost immediately to a law firm that has a permanent art collection. The other, #160 out of 200, is currently in their gallery as a show, a portfolio intended for sale as a collection, not as individual pieces.

As someone who has come to analyze how we archive our civilization through music, art, literature, and media, I think this collection is more important than is first apparent. Let me explain. Let's say we have an example of a piece of art by Roy Lichtenstein, a prominent artist, to say the least. This picture will tell you where he was with his art in the year he created it. However, a representation of thirteen of the "greats," created during exactly the same time period, will tell you where modern art was in total, in this case, specifically in 1976. It shows a much broader stroke of art of the time than looking at any one artist. This portfolio is a small museum of the era. (moma, ha! ha!) One of the portfolios is in the permanent collection at MoMA, gifted during 1976, the bicentennial year.

The Partners
In a nutshell, Helene Greenberg Wyman and Meryl Messineo have a partnership based on mutual respect for the other, each with overlapping but distinct talents and skills. Helene has multi degrees in art that encompass creating art to the business of art, and Meryl is business oriented with a profound love and dedication to art. Every undertaking requires the innate tug of war between quality and economic reality, which is the tightrope of running any gallery. There must be intense and invigorating discussions for good concepts to emerge before a successful show can be imagined. I think Helene and Meryl are up to that task and you can see the results in their innovative shows like this one, "America: the Third Century."

As you enter the gallery, mounted on the wall to introduce the show, there is a written piece about the history of prints in America by Russell Lynes, the famed art historian, photographer, author, and managing editor of Harper's Magazine. The opening sentence is:

"From the beginning of our nation's independent history, and even before, prints have been a source of wonder, enlightenment and wealth to Americans."

America: the Third Century
Rare Portfolio of 13 Prints

Messineo Art Projects and Wyman Contemporary
James Rosenquist, "Miles"
Robert Rauschenberg, "Deposit"
Roy Lichtenstein, "Bicentennial Print"
Allan D'Arcangelo, "Beginnings"
William Bailey, "Still Life with Eggs"
Edward Ruscha, "America Whistles"
Christo, "Texas Mastaba"
James Brook, "Concord"
Constantino Nivola, "City"
Velox Ward, "The Home My Daddy Built"
Raymond Saunders, "Duck Out of Water"
Robert Andrew Parker, "Sunrise"
Ben Schonzeit, "Yankee Flame"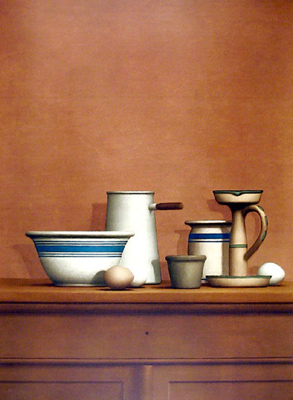 Still Life with Eggs, Candlestick and Bowl
William Bailey
1976
Collotype
30 x 22 inches
Edition of 200


reviews
Robert Stivers | Mystery of Darkness

Jill Nathanson: At the Galleries, 2013

Jill Nathanson at Messineo Art Projects/Wyman Contemporary, 2012

Art Around the Edges, 2012

Jason Florio, The Long Fight for Kawtoolie, 2012

Jason Florio, Fighting Spirit, 2012

Antonio Carreno, Messineo Art Projects / Wyman Contemporary, 2011

Jill Nathanson at Messineo Art Projects and Wyman Contemporary

Jill Nathansonís Quiet Vision, 2010

Paul Vickery - Past Imperfect Future Tense, 2010

Jason Florio, Black and White Magazine, 2009

Gema Alava: Tell Me the Truth, 2008

An Alchemist's Reverie, Picture Magazine, Fall 2002

Robert Stivers, Black & White Magazine, June 2001

Sylvia Schuster, The New York Art World, January 2001

more...