reviews


Robert Stivers
by Richard Pitnick
Black & White Magazine, June 2001

What makes Robert Stivers work so disquieting yet compellingly effective is the way he subverts the modern photographic aesthetic to explore the nature of perception and identity. Stivers not only questions and challenges the degree to which the camera confers or imposes identity, but suggests that the external world can legitimately exert its own claim to identity, substance and meaning outside the one imposed by the camera. Stivers is one of a growing number of contemporary photographers working with blurred, soft-focus and out- of-focus images. Regardless of whether he is photographing sculptural and architecture details, or human and animal forms, Stivers technique and aesthetic sensibility reduce all his subject matter to their most elemental, inchoate form. Whether intentional or not, Stivers work also explores in a deeply philosophic way the very meaning of perception, and the degree to which images, shapes and patterns emerge from some kind of preconscious level. A primarily self- taught photographer, Stivers believes strongly that the dark room is the arena in which the photographer fully realizes his vision.With their rich tonalities and qualities of classicism, Stivers images evoke late nine-teenth and early twentieth-century pictorialism, a perhaps not unintended irony given the fact that in the battle to establish a photographic aesthetic, pictorialism lost out to the so-called modernism espoused by Steiglitz, Strand, Weston and Adams.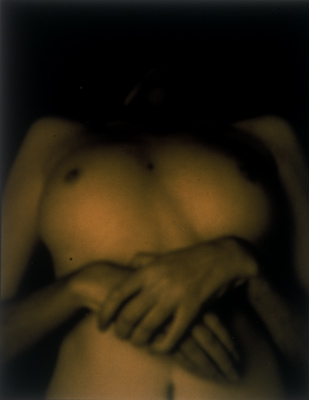 Nude Female Torso with Clasped Hands
Robert Stivers
1999
Toned Silver Gelatin Print
Edition of 15
20 x 24 inches


reviews
Robert Stivers | Mystery of Darkness

Jill Nathanson: At the Galleries, 2013

Jill Nathanson at Messineo Art Projects/Wyman Contemporary, 2012

Art Around the Edges, 2012

Jason Florio, The Long Fight for Kawtoolie, 2012

Jason Florio, Fighting Spirit, 2012

Antonio Carreno, Messineo Art Projects / Wyman Contemporary, 2011

Jill Nathanson at Messineo Art Projects and Wyman Contemporary

Jill Nathansonís Quiet Vision, 2010

Paul Vickery - Past Imperfect Future Tense, 2010

Jason Florio, Black and White Magazine, 2009

Gema Alava: Tell Me the Truth, 2008

An Alchemist's Reverie, Picture Magazine, Fall 2002

Robert Stivers, Black & White Magazine, June 2001

Sylvia Schuster, The New York Art World, January 2001

more...