reviews

Jill Nathanson at Messineo Art Projects and Wyman Contemporary

Courting chaos in pursuit of clarity, Jill Nathanson marries roughhewn, free-floating geometry to silky planes of color. Monumental in impact, if not always in size, Nathanson's shapes float, teeter and unfurl within abruptly stated compositions that nonetheless achieve a tremulous quietude. Imagine if Morris Louis had traded elegance for grit and then honed in on Kazimir Malevich's turf, cropping its parameters in the process. The results are variously bumptious, tender and grave, and given to solitary moments of hard-nosed rigor.

With No Blue Without Yellow as the overriding conceit and Red In The Time of Aqua a key exemplar, you'd think Nathanson was defined primarily by color and it's true: the work would be nothing if it didn't yoke the chromatic tangents resulting from, say, a shard of copper-orange overlapping a milky run of mint green. But surface is key: Rarely have acrylics being endowed with such fleshy tactility. Not a few observers have remarked upon Nathanson's way with oils. Quite a compliment for someone using plastic paint.

Writing in The Brooklyn Rail, Joan Waltemath points to how Nathanson's "apparent casualness . . . stands in contrast to [her] penetrating content", keying into "existential questions" explored in a concurrent exhibition of assemblages at The Derfner Judaica Museum. Having not seen the Derfner exhibition, I can't comment on how thoroughly Nathanson melds specific spiritual yearnings with abstract form. But as seen in godless Chelsea, Nathanson's art gives body to sweeping, unkempt beauty.

Mario Naves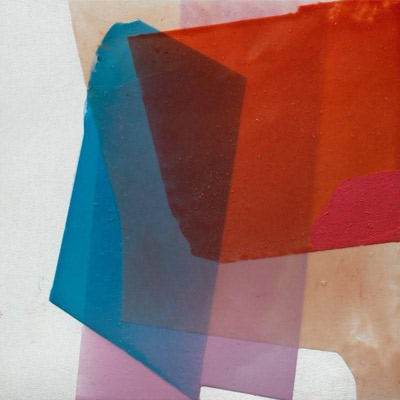 Spending Scarlet, Like a Woman
Jill Nathanson
2010
Polymer Resin, Pigment on Panel
20 x 20 inches


reviews
Robert Stivers | Mystery of Darkness

Jill Nathanson: At the Galleries, 2013

Jill Nathanson at Messineo Art Projects/Wyman Contemporary, 2012

Art Around the Edges, 2012

Jason Florio, The Long Fight for Kawtoolie, 2012

Jason Florio, Fighting Spirit, 2012

Antonio Carreno, Messineo Art Projects / Wyman Contemporary, 2011

Jill Nathanson at Messineo Art Projects and Wyman Contemporary

Jill Nathansonís Quiet Vision, 2010

Paul Vickery - Past Imperfect Future Tense, 2010

Jason Florio, Black and White Magazine, 2009

Gema Alava: Tell Me the Truth, 2008

An Alchemist's Reverie, Picture Magazine, Fall 2002

Robert Stivers, Black & White Magazine, June 2001

Sylvia Schuster, The New York Art World, January 2001

more...