reviews

An Alchemists Reverie
by Rebecca Klein
Picture Magazine, Fall 2002

Stivers has rapidly emerged as one of the foremost contemporary photographers of our day. The fact that he started shooting at the relatively late age of 34 makes his accomplishments even more exceptional. Stivers work has been acquired by some of the most prestigious museums and institutions in the world. Among them are the Brooklyn Museum of Art, the Victoria and Albert Museum in London, the L.A. County Museum of Art, the Museum Ludwig in Cologne, Fogg Art Museum at Harvard University, The Museum of Contemporary Photography in Chicago, and the Bibliotheque Nationale in Paris. In New York, the galleries that have represented Stivers are the Throckmorton Fine Arts Gallery, the Yancey Richardson Gallery, and also Messineo Wyman Projects.

Series Five is probably Roberts most profound body of work says gallery co-owner Helene Greenberg-Wyman of Messineo Wyman Projects. Especially his black and white gelatin silver prints of twisted and contorted bodies in which he really pushes the human form. Series Five also marks the production of Stivers first monograph, Robert Stivers Photographs, as well as his break from straight photography. Before Series Five I let all the drama unfold within the frame, using the negative as it appeared without cropping. With this body of work I began to allow what was initially on the negative to be transformed into something greater than itself, he says. The content of thatwork is still very much about self-exploration but is completely different visually from anything that came before.

Greenberg-Wyman places Stivers among such well established and highly regarded photographers who have adopted a soft-focus approach as Adam Fuss and Bill Jacobson. Robert comes from the school of pictorialist, as opposed to hyper realist, but like Jacobson, he is more extreme and pushes the boundaries of that style. Greenberg-Wyman explains. Strivers agrees that his work is not so neatly defined pictorialism with a twist. Unlike pictorialism, my work is much less idealized, he says. Its less about romanticizing and more about mystifying.

The mystification process of every Stivers piece is a timely and complicated one. Robert is like an alchemist, Greenberg-Wyman explains. He uses lens based photogragraphy and handles materials flipping things back and forth sometimes over-exposing, sometimes underexposing depending upon whats going on with him. Then he might re-shoot a print hes already made and manipulate it further in the darkroom by enriching the tone of the gelatin silver print with more selenium or another kind of polytoner. Thats how he performs, like in a lab.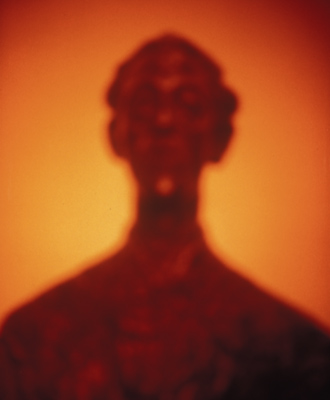 Bust of Man - G
Robert Stivers
1998
C-Print
40 x 50 inches
Edition of 4


reviews
Robert Stivers | Mystery of Darkness

Jill Nathanson: At the Galleries, 2013

Jill Nathanson at Messineo Art Projects/Wyman Contemporary, 2012

Art Around the Edges, 2012

Jason Florio, The Long Fight for Kawtoolie, 2012

Jason Florio, Fighting Spirit, 2012

Antonio Carreno, Messineo Art Projects / Wyman Contemporary, 2011

Jill Nathanson at Messineo Art Projects and Wyman Contemporary

Jill Nathansonís Quiet Vision, 2010

Paul Vickery - Past Imperfect Future Tense, 2010

Jason Florio, Black and White Magazine, 2009

Gema Alava: Tell Me the Truth, 2008

An Alchemist's Reverie, Picture Magazine, Fall 2002

Robert Stivers, Black & White Magazine, June 2001

Sylvia Schuster, The New York Art World, January 2001

more...