exhibitions


Julia Nitsburg
The Eighth Day
16 October - 18 December, 2008

Opening Reception: 16 October, 6-8 pm

227 West 29th Street, 4th Floor (#111)
New York, NY 10001
212.414.0827

Gallery Hours: Wed-Sat 12-5 and by appointment.

Messineo Art Projects and Wyman Contemporary are pleased to announce an exhibition by Julia Nitsberg, entitled The Eighth Day.

"The Eighth Day" is mixed media installation that consists of wall-drawings, spray-paintings, sculpture and artist's books. The exhibition's premise, inspired by escalating violence and growing instability around the world, draws on the vision of Russian philosopher Nikolai Berdiajev of the Third Epoch, which he refers to as the "Eighth Day of Creation". He believes it to be the final chapter of universal history that includes humans and begins with their fall and expulsion from Paradise. The other significant inspiration was Mark Twain's "Diaries of Adam and Eve". The images in sprays and books are loosely based on these texts.

Two Artist books will be available, each in an edition of 10.

For further information please contact the gallery at: 212.414.0827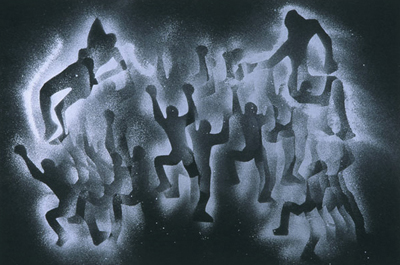 D-Day
Julia Nitsberg
2004
Silver Spray-Drawing on Black Paper
24 x 36 inches


Past Exhibitions
Aerialscapes

Gregory Forstner: Study for an American Archetype

The Long Fight for Kawtoolie: Portraits from the Jungles of Burma

America: The Third Century

more...