exhibitions


Photographs by Andrea Sanders
September 27 - November 2, 2007

Opening Reception Thursday, September 27, 6-8 pm

227 West 29th Street, 4th Floor (#111)
New York, NY 10001
212.414.0827


Andrea Sanders was born in New York in 1969 and grew up in the suburbs of New York City. After graduating from The University of Virginia in 1991 with a Bachelor of Arts in both Fine Art and English Literature, she was accepted to the Vermont Studio Center where she spent a month making mixed media work before returning to New York to live in Brooklyn. In 1996 she received her Masters in Fine Art from the Photography & Related Media Department at the School of Visual Arts in Manhattan, culminating in an exhibition of photographic mixed media works at the Visual Arts Gallery in Soho. She was accepted to the Bronx Museum's Artists in the Marketplace seminar program, resulting in a 1997 museum exhibition, and since then has exhibited in numerous group shows in and around the New York City area. Andrea's work deals with the psychology of home and space and along with photographs, it has often incorporated a variety of materials including, metal, glass, and found or natural materials. Her current body of work is comprised primarily of digital photographic images. Her studio is located in Brooklyn, where she also continues to reside.

My Work is about permanence, change and loss. It is about our futile attempt to stop time, to be still, to hold on to things that can't be kept. The images and references are primarily of subtle but emotionally charged places - spaces we can imagine knowing well, homes or spots where we might have spent time or driven by countless times. They are generic and blurry, making them familiar and vague at the same time, like fading memories that both comfort us and leave us lonely. After all, the places we're intimate with literally ground us on this earth and place us with a sense of stability in a terribly chaotic world.

The French philosopher, Bachelard, wrote that "a house is a tool with which to confront the cosmos. It helps us to say, 'I am an inhabitant of this world, in spite of the world.'" And just as a photograph is proof, a house is also proof. Physical proof that we were there. But now we are here, and the image on paper that is a photograph may help us to remember, but it can never bring us back. An attempt to save an experience by photographing the evidence is as futile as trying to stop time. I try to convey that sense of "then and now" with my work. In contrast to the still, solid architecture we build and surround ourselves with, and in contrast to the frozen photographs which we treasure although they are simply illusions, our lives are, for better or for worse, in constant and unstoppable forward motion.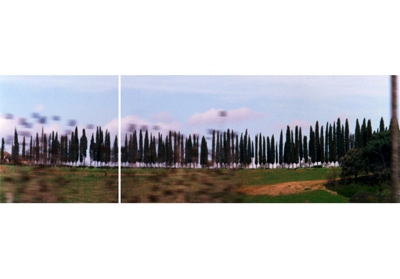 Untitled Diptych (Tuscan Trees)
Andrea Sanders
2007
Digital Photograph
Edition of 6
44 x 90 inches


Past Exhibitions
Aerialscapes

Gregory Forstner: Study for an American Archetype

The Long Fight for Kawtoolie: Portraits from the Jungles of Burma

America: The Third Century

more...