exhibitions

America: The Third Century, Rare Portfolio of 13 Prints
Messineo Art Projects and Wyman Contemporary
Including Robert Rauschenberg, James Rosenquist, Roy Lichtenstein and Edward Ruscha, published in 1976 to commemorate the 13 American colonies forming the United States.

17 November - 21 January, 2012

Messineo Art Projects and Wyman Contemporary are pleased to announce the exhibition of a limited edition portfolio of five lithographs with serigraphs; three collotypes; three screen prints (serigraphs) and two lithographs created by renowned artists recognized by the American Revolution Bicentennial Commission in 1976. The 13 prints - each 30 inches high and 22 inches wide- are represented by the following artists:

James Rosenquist, "Miles"
Robert Rauschenberg, "Deposit"
Roy Lichtenstein, "Bicentennial Print"
Allan D'Arcangelo, "Beginning"
William Bailey, "Still Life with Eggs"
Edward Ruscha, "America Whistles"
Christo, "Texas Mastaba"
James Brooks, "Concord"
Constantino Nivola, "City"
Velox Ward, "The Home My Daddy Built"
Raymond Saunders, "Duck Out Of Water"
Robert Andrew Parker, "Sunrise"
Ben Schonzeit, "Yankee Flame"

This portfolio, never before offered for public sale, is a rare limited edition of 200 impressions (numbered 160/200). It was commissioned and underwritten for the U.S. Bicentennial by Mobil Oil and produced by APC Editions and Chermayeff & Geismar, which commissioned original serigraphs, lithographs and collotypes from leading artists.

The Museum of Modern Art and Albright-Knox Art Gallery, Buffalo, NY, include several prints from the portfolio in their permanent collections.

The portfolio accents America's Pop Art tradition. The featured work, Lichtenstein's "Bicentennial Print," was specially executed for the America: the Third Century portfolio The artist's output defined the basic premise of Pop Art through parody, and his tongue-in-cheek humor prevailed. Strongly influenced by popular advertising and comic book style, Lichtenstein often described his work as "in the tradition of Pop Art" and "not American painting, but actually industrial painting."

America has an illustrious and long tradition of printmaking, including satirical and provocative political cartoons that reaches back to Colonial times and the early years of the new republic. For example, Benjamin Franklin's 1784 print, "Join or Die," depicts a segmented snake representing the original American colonies. The silversmith Paul Revere applied his engraver's skill to illustrate battle scenes. And Asher Durand (Hudson River School landscape painter), who engraved John Trumbull's "Signing of the Declaration of Independence," was by trade an engraver of bank notes and certificates. Durand often ornamented them with classical figures and elaborate scroll work.

Prints have been negotiable currency for the exchange of ideas, information, promulgating religious faiths, and concepts of beauty and morality.

Gallery Hours: Wed-Sat 12-6pm and by appointment For additional information please contact the gallery.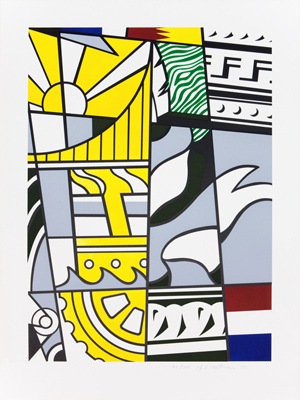 Bicentennial Print
Roy Lichtenstein
1976
Lithograph with Silkscreen
30 x 22 inches

Past Exhibitions
Aerialscapes

Gregory Forstner: Study for an American Archetype

The Long Fight for Kawtoolie: Portraits from the Jungles of Burma

America: The Third Century

more...