exhibitions

Robert Stivers
Craving the Seamstress
photographs from series 9

April 14 - May 21, 2011

511 West 25th Street, Suite 504
New York, NY 10001
212.414.0827

Gallery Hours: Wed-Sat 12-6, and by appointment
Opening Reception: Thursday, April 14 6-8 pm

Messineo Art Projects and Wyman Contemporary present a new series of photographs by Robert Stivers.

In his previous work, Stivers is known as a "pictorialist", his out-of-focus approach to photography could be described as sculptural. Here, Stivers continues to work his images in the darkroom, sculpting areas of light and dark, softening edges and suspending his subjects out of context to produce an image closer to his own interior world.

In this series, Stivers does not record, he creates, he continues to push the boundaries of the material world to the outward manifestation of a "spiritual other" waiting to be discovered. In the 12 silver prints, the artist repeatedly turns his attention to objects that represent a deep longing for a time lost. Among the photographs' subjects are a timepiece, a key, a book, a skull, and a rose. What ties these diverse objects together is the artist's yearning to restore a tattered being. According to Stivers "I believe it is the true nature of photography not necessarily to document, but to alter or transform objects, scenes and events, whether contrived or not, into a personal alternate reality"

In Buddhism, just as a seamstress sews together different pieces of cloth, so does craving sew together one life to another. It ties together the succession of lives. Craving is so powerful that it can bridge the gap created by death and rebuild the whole house of conscious existence again and again.

The larger works in the series, Sunflower (#1) and Skull, are fuji crystal archive prints mounted on dibond.

Robert Stivers has had four artist's Monographs published: Robert Stivers' Photographs, 1997, Arena Editions, Listening to Cement, 2000, Arena Editions, Sestina, 2003, Channel Photographics, Sanctum, 2006, Twin Palms.

Mr. Stivers work is included in the following collections:
The Metropolitan Museum of Art New York, The Brooklyn Museum of Art, New York, The Los Angeles County Museum, California, The Bibliotheque Nationale in Paris, France, The Victoria and Albert Museum in London, England, and the Museum Ludwig in Cologne, Germany.

All books are available by request.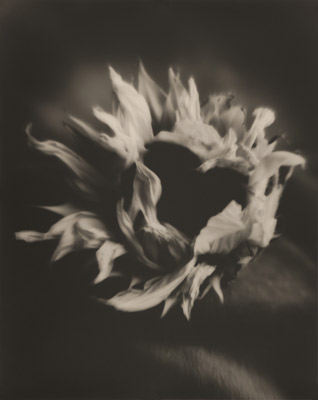 Sunflower (#1)
Robert Stivers
2010
Fuji Crystal Archive Print
40 x 32 inches


Past Exhibitions
Aerialscapes

Gregory Forstner: Study for an American Archetype

The Long Fight for Kawtoolie: Portraits from the Jungles of Burma

America: The Third Century

more...