exhibitions


Paul Vickery
Past Imperfect Future Tense

September 23 - October 30, 2010

Messineo Art Projects and Wyman Contemporary are pleased to present for the first time the photographic work of London based artist Paul Vickery. In his first US solo exhibition at 511 West 25th Street, this series highlights Mr. Vickery's preoccupation with Western culture's obsession with image, identity, and the contradictory nature of the human condition. For his project, Past Imperfect Future Tense, the artist focuses on people who desire to be visible but who remain 'outsiders' in normal society. After photographing heavily tattooed individuals, for whom external image is important, the artist has elected to push the boundaries of his portraiture and go beyond the surface of a two-dimensional image. According to Mr. Vickery, "… the project (semi-autobiographical) is also a metaphor for our own lives, we lead contradictory and confusing lives but often ignore, or are too busy to question, the so called 'normal' world we inhabit".

The show consists of 15 Chlorobromide handprints- 16 x 20 in., 20 x 24 in., and large-scale prints mounted on Dibond. Mr. Vickery is also represented in private collections in the United Kingdom and Hungary.

511 West 25th Street, Suite 504
New York, NY 10001
212.414.0827

Gallery Hours: Wed-Sat 12-6, and by appointment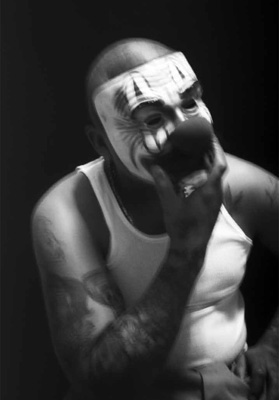 Rene in Clown Mask
2009
Chlorobromide Print
Edition 3/15
20 x 24 in.


Past Exhibitions
Aerialscapes

Gregory Forstner: Study for an American Archetype

The Long Fight for Kawtoolie: Portraits from the Jungles of Burma

America: The Third Century

more...