exhibitions


David Stern
selections from One Hundred Simple Things
May 14 - July 16, 2009

227 West 29th Street, 4th Floor (#111)
New York, NY 10001
212.414.0827

Gallery Hours: Wed-Sat 12-5
July: Wed-Thurs 12-5

Messineo Art Projects and Wyman Contemporary are pleased to announce an exhibition by David Stern entitled Selections From "One Hundred Simple Things".

This exhibition features a selection of ink drawings that represent small and simple things. Mr. Stern has produced a body of work that represents everyday items such as a fork, a glass of water, a bowl and a banana, all 9 x 7 inches and offered to the public for an affordable price. This unique series is not just limited to the motif, but is conceptual. Stern, who usually works on large canvases, impastoed with heavy oil paint, is a "studio painter". He is known for his large scale figure compositions, drawn from his imagination and memory. The Artist is using a basic drawing method with nothing else involved other than a brush, paper, shellac ink and a bamboo quill.

David Stern was born in Essen, Germany and moved to New York City in 1995. Mr.Stern is in public and private collections in the United States, Europe and Asia.

For additional information please contact the gallery.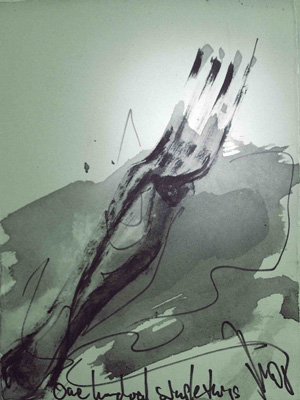 018
David Stern
2008
Ink on Paper
9 x 7 inches


Past Exhibitions
Aerialscapes

Gregory Forstner: Study for an American Archetype

The Long Fight for Kawtoolie: Portraits from the Jungles of Burma

America: The Third Century

more...